Profile

an open book, a closed soul
// let nothing come between you and the earth
Free Account
Created on 2012-10-31 09:47:51 (#1778532), last updated 2012-10-31 (254 weeks ago)
591 comments received, 0 comments posted
186 Journal Entries, 65 Tags, 0 Memories, 15 Icons

About

Mini Bio
Tigers are silent hunters. You won't hear them coming until it's too late.
Name: Tora, aka Tiger-sama
Post: Guitar, Alice Nine
Bond: 秘密
Home: where the heart is
Hobby: chasing squirrels up trees
Alts: Xepacna, Sitta
Oh yeah, and since this journal is friends only, have the obligatory banner: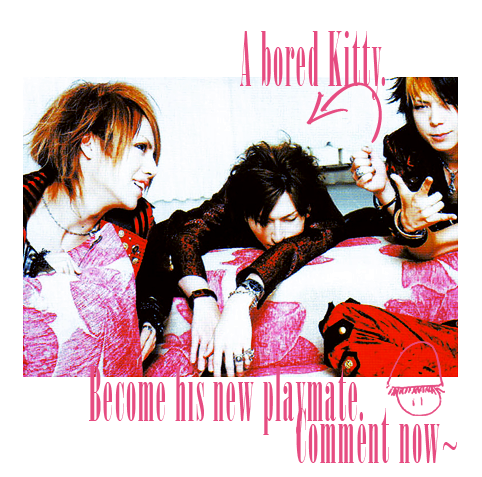 I miss you, otousan. I will keep your words in my heart for the rest of my days.
[RP journal only; no connection to the real whatsoever]

Connect
akiya
,
alice nine
,
born
,
d=out
,
guitar
,
kagrra
, keiyuu,
kra
,
kuina
,
life
,
love
, madao, masasaby,
miyavi
,
music
,
naoki
,
peace & smile music
, peace and smile music,
players
,
ps company
,
psc
, psc indies, purikuri, rice puff,
royz
, salad ham,
screw
,
sug
,
the gazette
, the tokyo high black, tomorrow joe,
visual kei
,
world of warcraft
,
ガゼット
,
雅-miyavi-

People
[View Entries]

Communities
[View entries]

Feeds
[View Entries]

Subscriptions (0)

Linking
To link to this user, copy this code:
On Dreamwidth:
Elsewhere: